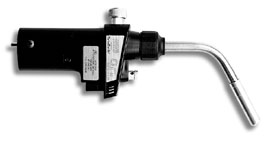 Self Lighting Hand Torch
Turbotorch
VICTOR Turbotorches are very hot torches due to a unique mixing venturi built into the burner. This makes them excellent for heating small areas—great for fire-polishing small punty marks, etc. They are well made for years of use and are worth the investment.
TX509 Self Lighting Hand Torch —$ 94.46
This torch is great for lighting shop equipment and polishing very small punty marks. Keep fire always instantly available. Self lighting torch fits a 1 lb. propane or mapp gas bottle.
---
TLK#47 "SPARK-o-LITE" —$ 276.00
Same as above but much more versatile and economical as it runs off large gas bottles. Self lighting torch fits 10 & 20 lb. propane bottle and comes with a 12' hose and regulator.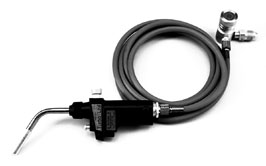 "SPARK-o-LITE"
GS-10
EXACT
The ultimate Hand Torch from Denmark! This high quality and versatile hand torch manufactured by EXACT in Denmark allows you to continuously expand its use. The flame is adjusted with a finger trigger control or knob that also acts as a pilot.
EXACT Complete Basic Torch Kits
We offer a Complete Basic Torch as well as several interchangeable parts—four different tip sizes, and two lengths of extension tubes.
GS-10—$ 178.00
Includes handle with 4" extension tube, Marshal regulator, 6' hose, and a 120,000 BTU tip, ready to connect to a 10 lb. or larger propane bottle.
---
GS-32—$ 184.00
Includes handle with 4" extension tube, Marshal regulator, 6' hose, and a 197,000 BTU tip, ready to connect to a 10 lb. or larger propane bottle
Exact Stainless Steel Torch Tips
#3810 SS 50,000 BTU—$ 29.00
---
#3811 SS 120,000 BTU—$ 40.00
---
#3821 SS 197,000 BTU—$ 48.00
---
#3851 SS 297,000 BTU—$ 54.00
Exact Extension Tubes
4" Extension Tube—$ 21.00
---
8" ExtensionTube—$ 28.00
Miscellaneous
#5106 6' Hose—$ 25.00
---
#5125 25' Hose—$ 84.00
---
#5135 35' Hose—$ 118.00
---
#1806 Torch Handle—$ 68.00
---
#5895 Regulator w/POL—$ 64.00
---
#4016-7A Repair Gasket—$ .60
To Top Of Page